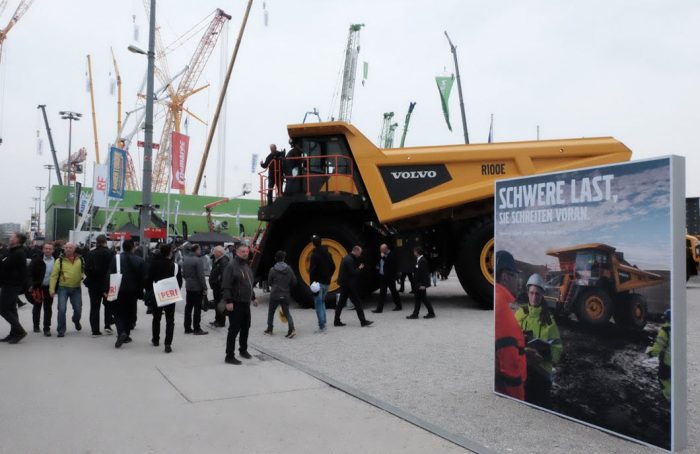 Visiting Bauma 2019 in Munich – Best Moments!
0

Bauma is considered one of the major events on Mascus' calendar as we recognise the importance of attending this on every edition and getting the feel of the industry first hand. We've been present in 2013 and 2016 and again on 8-14 April 2019, this time with a joint Ritchie Bros., IronPlanet and Mascus stand.
Ana Maria Jurca, Communications Specialist at Mascus was present there to record the best moments of the event. After attending this year's edition, she has compiled a quick summary of this imposing fair seen through the eyes of a first timer visiting.
2019 Record edition
Attending the largest construction and mining machinery exhibition in the world for the first time can be a humbling and overwhelming experience at the same time. Even more so when you happen to visit the record edition of the largest Bauma ever held:
more than 620,000 visitors from over 200 countries (40,000 more than during the previous edition in 2016)
3,700 exhibitors from 63 countries covering 614,000m2 of space (increased by 9,000m2 since 2016)
18 halls, two new ones added for this years' edition
Mascus presence and achievements
This edition, Mascus brought along a team of 18 people from 10 countries taking turns at the stand, greeting visitors and meeting face-to-face with our customers and prospects. And it was the best occasion to see Ritchie Bros., Iron Planet and Mascus representatives all working together as a well welded team and informing about the combined used equipment disposition solutions and sales channels.
Being present at Bauma is not only the catalyst for successful business, but also making new contacts, conducting productive meetings with customers and finding out what their current needs are and adjusting our services proposal accordingly.
During this edition we counted two major business successes: we've officially signed a deal with Komatsu Europe for a tailored RB Asset Solutions product and delivered our Inspection Tool to Case Construction.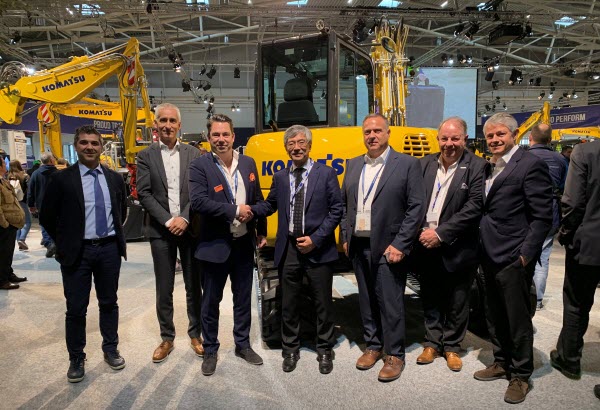 Bauma is mostly about introducing exciting new products and finding buyers for them, however OEMs are getting more and more organised in the used equipment department and allocate more resources in assisting their dealer networks to re-market and sell the used equipment stock faster. And that's where Ritchie Bros and Mascus can step in and facilitate the process.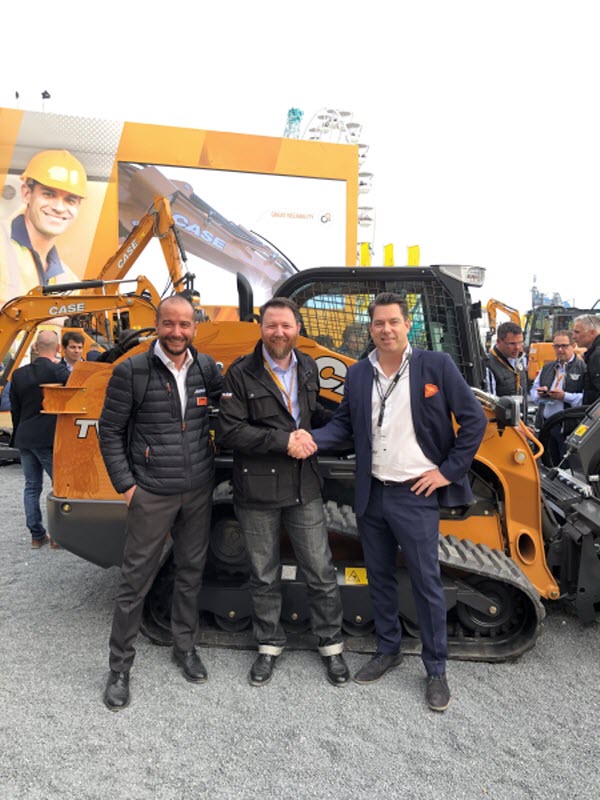 Who are the exhibitors?
By far, the largest sector represented at Bauma was construction machines and attachments; the area allocated for this sector also needed to be expanded from four to five halls and a new outdoor area. The construction machine sector is also the most exciting to visit, with renowned brands showcasing their most impressive and new heavy machines. Besides that, the components sector occupied 5 halls, and the formworks and scaffolds sector was also impressive to visit. Needless to say that visiting Bauma means one can easily end up walking 10 km per day, so pack up your most comfortable shoes.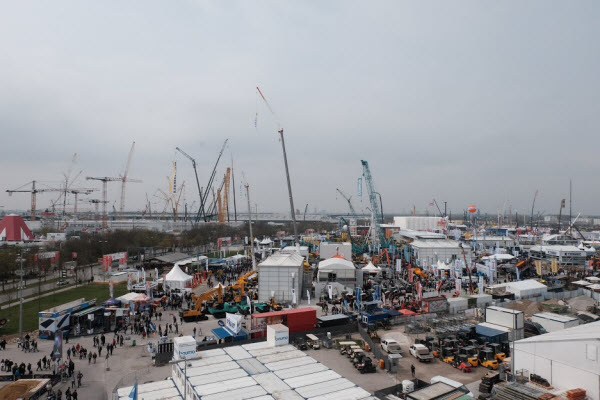 Most imposing exhibitors and largest equipment
All the largest manufacturers of construction and mining equipment are present at Bauma. And the space they book at Bauma is also an indicative of their top positions in the industry. Liebherr occupied the largest exhibition area with 14,401m2, followed by Wirtgen Group with 12,960m2, and Caterpillar with 11,237m2. Naturally, it's no easy job to build such large booths. In fact, it took Liebherr 160 days to complete the construction of their three-floor booth. They also brought 1,500 employees to the expo.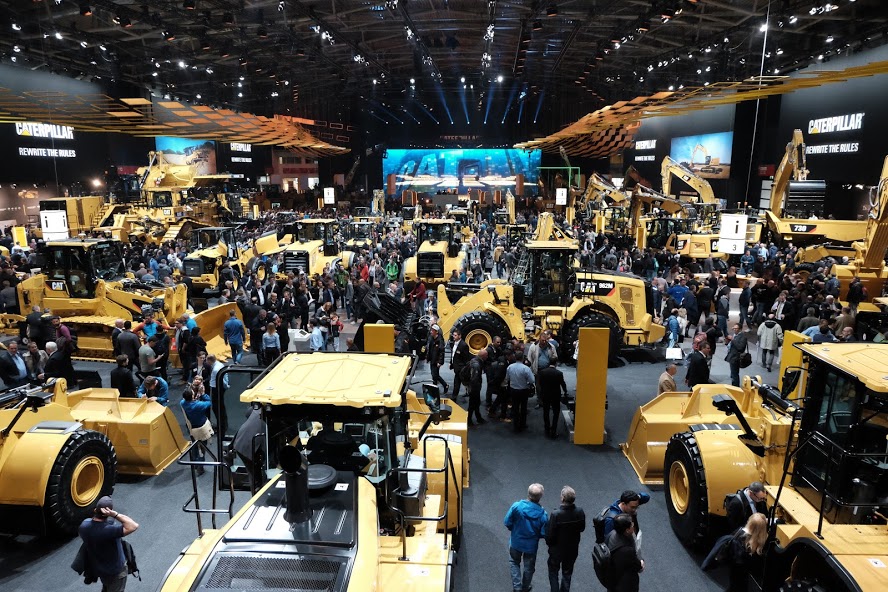 Each exhibitor showcases their best and newest products which get all the hype and attention from visitors.
This year, the not-to-miss giants were:
Liebherr LR1800 crawler crane (1,070t)
Komatsu PC4000-11 hydraulic excavator (400t)
Ammann ABP240 asphalt mixing plant (39m tall)
Caterpillar 777G off-highway truck (165t)
Wirtgen Group asphalt mixing plant (320t/h capacity)
Volvo R100E rigid dump truck (100t load capacity)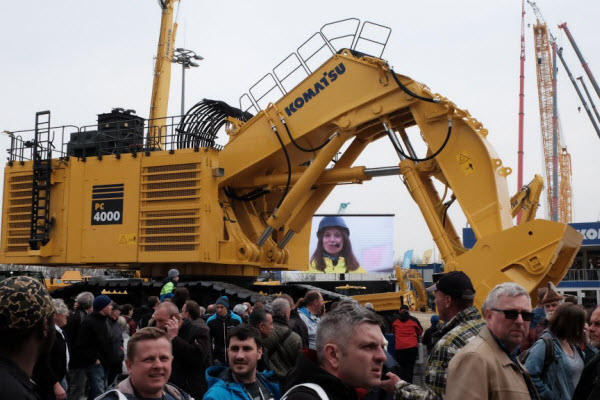 Innovations and product launches
The focus of this year's Bauma was on sustainable and digital solutions, as digitalisation becomes a driving force in the construction machinery industry. The exhibitors were eager to share their latest advancements in sustainability, electric and hybrid engines and environmentally-friendly technologies.
Caterpillar revealed its D6 dozer with a choice of electric drive or fully-automatic power train and up to 35% better fuel efficiency, and the Cat 906 compact wheel loader, a concept model which features a fully electric drive train powered by a lithium ion battery.
Volvo Construction Equipment launched the ECR25 electric compact excavator and the L25 wheeled loader, as part of their new electric compact machine range with zero exhaust emissions, significantly lower noise levels and reduced energy costs .
Manufacturer Case also launched its latest innovation: a methane-powered wheeled loader, known as project TETRA aiming to highlight the importance of alternative fuels and demonstrate their viability in the construction environment.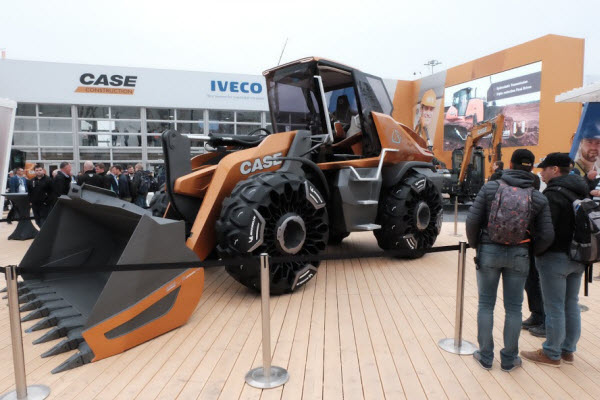 Under the "Electrifying!" slogan, one of the main attractions at Wacker Neuson's stand was the zero emission product family. The DW15e electric wheeled dumper was one of the new products launched in their zero emissions portfolio.
It's an encouraging sign that large equipment manufacturers are recognising the need for reducing emissions, especially in urban areas and are addressing this by launching products safe for the environment but also still productive and cost efficient.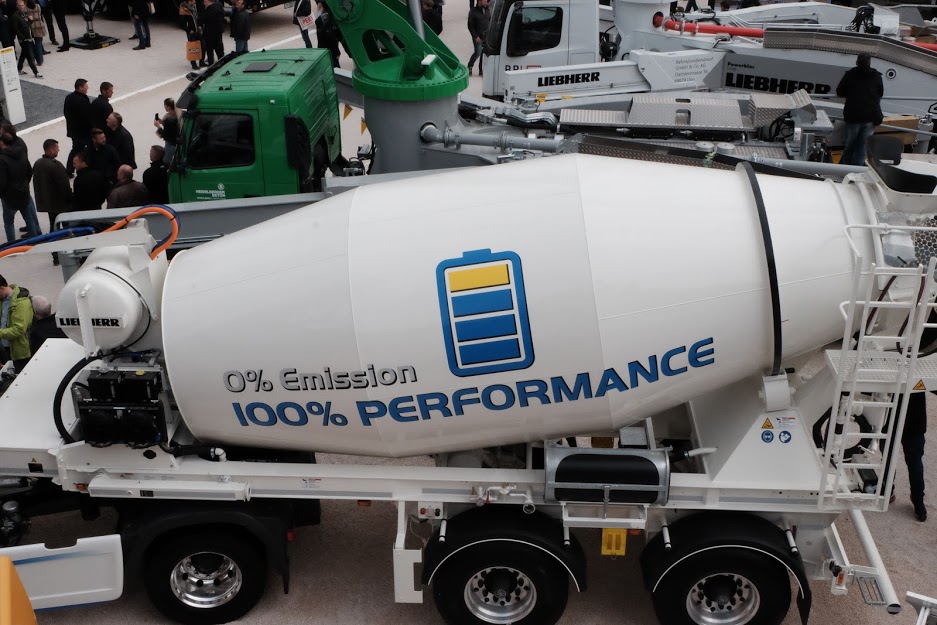 General atmosphere at Bauma
At a quick glance, lots is going on at Bauma in each few square meters: business meetings taking place in slightly isolated areas, friendly chats between different companies representatives sharing ideas and experiences, families having fun times with their little kids, and even kindergarten and school groups visiting the fair.
This is not just the place where top industry players meet and do business, but also the stage on which the most stunning products of human intelligence and creation in the construction sector are displayed for everybody to admire.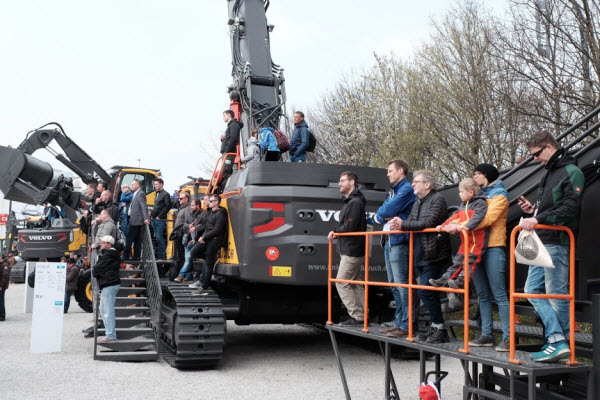 Fun things to do at Bauma
Whether you are in the business or just visiting for fun, watching the demo shows of the coolest heavy machines is the best part of Bauma, in our opinion. Volvo and Hitachi entertained the crowds with true spectacles several times a day by parading their biggest and most versatile machines and by demonstrating their skills through not always practical examples, such as recreating a bull fight but with heavy machines as protagonists.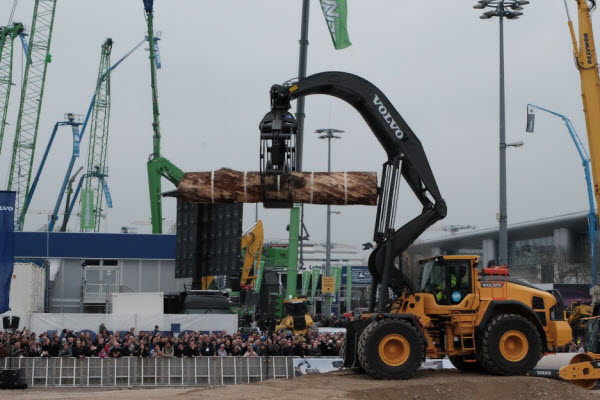 If you've ever fancied yourself a truck driver or taking an excavator for a spin, at Bauma you can get closer to your dream by climbing into every possible cabin you can find and experiencing the feeling of being inside the cockpit of a very large machine.
For the first time, a selfie tower was erected in the outdoor area. To keep with the construction theme, this was built from 24 shipping containers, and offered visitors a 360° view over Bauma from a 54m2 viewing platform at a height of 22m.
Another exiting experience was climbing on a Liebherr platform and seeing their spectacular display of over 60 machines from above.
Witnessing the various show performances such as this edition's Caterpillar stage performance of modern dance, amazing visuals and brand messages, was also an entertaining moment.
The visitors were also treated by a ride in the Ferris wheel towering amidst the Wacker Neuson Group's 179 exhibits, the highest number of exhibits brought to Bauma by a manufacturer.
Finally, if you are in the mood for shopping, but you only have a limited budget at your disposition and cannot afford an excavator, you can raid the branded merchandise shops of these manufacturers, and get your fan clothes and model cars as a souvenir.
Exquisite organisation
All these seem like a gargantuan job to organise. But everything was so well prepared and every little detail so well thought of, so that visitors can enjoy a seamless and relaxed experience at BAUMA. Starting will all necessary info covered by their mobile app, to guide you and help you plan your visit before even arriving there, continuing with their fun social media team present at all highlights of the event, and ending with the dedicated and patient team of Munich metro employees safely guiding the crowd loading and unloading and coordinating transport in the smoothest way possible.
So make sure you book your ticket for the next Bauma in 2022. We will be there, for sure!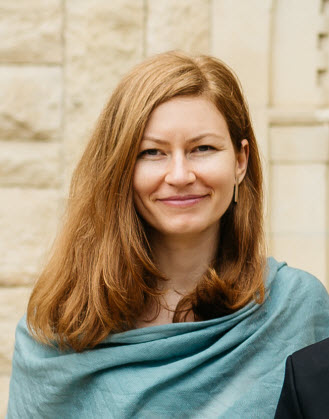 Communications Specialist & Social Media Manager at Mascus